What is The Day Before release date? When its first trailer dropped back in 2021, The Day Before blew people away with its gritty open-world set in the United States following a deadly pandemic. A survival MMO, the game will see players exploring the world, scavenging for resources in the abandoned metropolis of New York City and the lush countryside outside it, all while taking down (or hiding from) infected, zombie-like enemies, and other players alike.
The Day Before was then met with a series of delays due to claims of copyright infringement and faked footage, leading some to believe the game was a scam all along. We're assured that the zombie game is still on its way, so here's what we know about the post-apocalyptic MMORPG game – and if The Day Before release date brings gameplay remotely like we saw in that original trailer footage, it could join our list as one of the best PC games this year.
The Day Before release date
The Day Before release date is set for December 7, 2023. This was announced on the game's X (formerly Twitter) page, with the announcement that it will be keeping its original name. The game will only release into early access on this date, with the full release coming when the developer is "certain this is the best version of the game possible". 
Originally scheduled for a release in June 2022, it was announced that the game would be shifting development to Unreal Engine 5 to improve the gameplay through a more advanced engine, pushing the release back in exchange for a complete experience.
The open-world game was delayed again in January 2023 following a trademark issue that saw the game pulled from Steam. It was later revealed that the trademark was, apparently, held by a "calendar app maker". This had called into question whether or not The Day Before exists as a playable game, as the devs promised to show off "raw gameplay" right before the trademark issues popped up. Instead, Fntastic put out a bizarre statement where they refer to themselves as "'90s action movie stars", claiming that players will see the game on November 10 this year.
The developer had previously doubled down on that November release date, but in a statement posted on 1 November, it was revealed that the game would be delayed, again, to December 7, 2023. Alongside this, it is confirmed there will be no pre-order and the game's price will be $39 at early access and $49 on full release.
There have also been questions about recent gameplay trailers bearing a close resemblance to videos for Call of Duty and The Last of Us. In a statement, Fntastic says that "we all live in a time of disinformation and lack of fact-checking. Anyone can say anything for views, and everyone will believe it. Disinformation needs to be dealt with as it can harm not only us but also other indies and small/medium studios. It also has a mental impact on the members of such teams. After the release of The Day Before, we'll think about how to help novice developers deal with fakes and allocate resources for this. Destroying is easy. Creating is difficult."
The Day Before beta
The Day Before is confirmed to be getting a beta test later this year and it's on Steam. At the time of writing, though, there is no confirmed The Day Before beta date, while a June 7 tweet referred to a closed beta, so hopefully it's still in the works.
According to an administrator on the game's Discord known as 'Kentain', the team has "been working hard to ensure that the game meets our high standards, and we are confident that it will be worth the wait."
Kentain goes on to explain that "as we get closer to the release date, we will be conducting a beta test for the game. This will give players the opportunity to try out the game before it is released and provide valuable feedback that we can use to improve the final product."
The Day Before trailers
The game's first trailer was released in January 2021 and showcases several minutes of gameplay alongside a commentary track introducing and describing key mechanics. In the trailer, two players explore an abandoned New York City intersection, looting destroyed cars and shops for resources. The main player is ambushed by a rival squad, forcing him to fight back, which draws the attention of a horde of infected.
This was followed up by a 13-minute gameplay trailer, offering a glimpse into life outside the city. The player drives both on and off-road, exploring and looting the shops, petrol stations, and farms they come across while fighting off other players and infected, as well as hiding from the police. It also features the player repairing their car, suggesting that vehicles must be maintained and touting a seemingly expansive crafting system.
A third trailer saw several clips of the player walking through a variety of different areas, showing off the scale of content available for players, from the streets of New York and the surrounding countryside to a gym, bar, and even a huge mall reminiscent of the ones in Dead Rising and Left 4 Dead 2. It also features a small log cabin with decorations being added to it over time, suggesting that players will be able to make and decorate a base of sorts over time.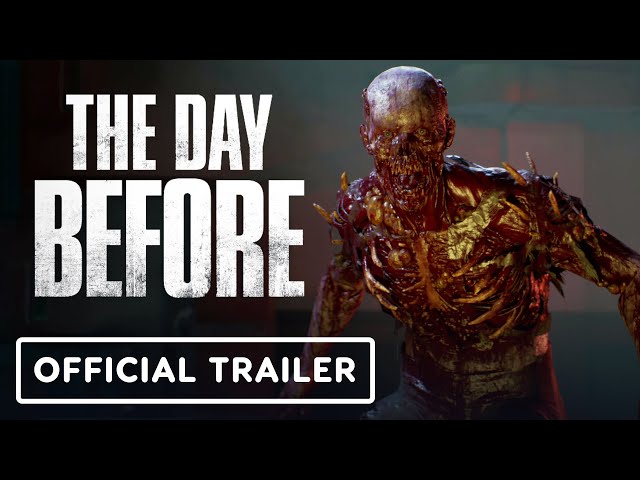 The fourth, and apparently final trailer, was debuted on November 1. The trailer discusses the "beautifully detailed" open world set after a "deadly pandemic" and introduces you to the survivors of the Woodberry Colony, which is your new safe home. The character creation screen seems to have diverse options and is shown off for the first time. Crafting is discussed, as well as the main task of collecting "valuable loot" and the new currency, Woodberry coins. The trailer confirms weapons can be modified and that each one has unique characteristics. Community tasks can be completed for Woodberry coins, which can be exchanged for ammo, weapons, protective equipment, food, drinks, and medicines. An inclusion of a spa and gym are shown, as are cars which can be bought with Woodberry coins. Your ranch is also shown, which you can customize with furniture and decorations.
The Day Before gameplay
We recently saw some raw gameplay footage of the MMO, where we're introduced to dismantling objects at a crafting table in order to make modifications to guns. These mods can drastically change the properties of a gun, with sights increasing the distance one can shoot enemies effectively. We also see the player decipher a four-digit code to deactivate an alarm as she rummages through the contents of a shop.
The combat in The Day Before is largely gun-focused, with bullets looking to be the fastest and most efficient means of taking down players and infected. Guns produce a lot of noise which will alert anyone nearby to your location, making melee weapons just as important in certain situations, especially if you're trying to remain undetected.
Fntastic has also boasted enhanced customization as a huge feature of the zombie game, with players able to personalize their weapons using attachments found while looting. The game will also feature custom finishers, which change depending on your equipped weapon.
As an MMO, player interaction is a huge part of the game, and there are multiple features in the game to facilitate this, such as voice chat. There are also safe zones, briefly mentioned in the game's first trailer, where players can trade loot with NPCs, take on quests, and meet other players.
It's in these safe zones where players can form a 'colony', The Day Before's version of clans. These are groups of players who work together to have a greater chance of fending off other players and infected. Playing in a colony increases your chances of survival, but you're going to have to split any loot you find with the other survivors. That being said, you could choose to go it alone in an attempt to take all the loot for yourself.
Fntastic has also made it clear that vehicles will play a large role in the game, facilitating an easy way to travel between the city and the countryside. This allows you to set out from your base more easily. Driving on roads is faster, but the noise may attract unwanted attention, while driving in the countryside may be stealthier, but a poorly equipped vehicle can potentially get stuck in particularly muddy terrain, forcing players to make a compromise.
And that's everything we know about The Day Before release date. Since you're already here, why not check out our list of the best survival games? We also recommend giving our upcoming games guide a read to find out what great titles are set to launch later this year.


This story originally appeared on PC Gamesn