The fireworks have started. The spooks are over. We're approaching winter. And… it's eShop Selects.
We're in November and closing in on the end of 2023, but while you sit around all wrapped up warm watching the fireworks for Bonfire Night (in the UK at least), why not look at the best the Switch eShop had to offer in October at the same time? That'll warm you up. For those of you in the US? We hope you got to sleep in a bit what with Daylight Savings and all…
It's been a busy month with Mario and Sonic releasing a top-tier game each, so let's see what you may have missed.
Honourable Mentions
So, first up — we're including all games that scored 7/10 or more that were released in October because the eShop was pretty stuffed. Publishers getting in before Christmas, eh? We're working on a review for Little Goody Two Shoes — a horror-themed game that is getting great word of mouth — but as our final verdict on it isn't in, it's not included below. One to look out for in the future, though.
Secondly, we're also including all three of the 3D Metal Gear Solid titles, which are also included in the Metal Gear Solid: Master Collection Vol. 1. You can buy them all separately on the eShop, and even if you buy the physical, you've still got to download them! The same goes for Just Dance, which is just a code in the box — tut tut.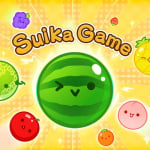 Publisher: Aladdin X / Developer: Aladdin X
Release Date:
20th Oct 2023 (USA)
/
20th Oct 2023 (UK/EU)
Suika Game absolutely exploded in popularity this year. Also known as 'Watermelon Game', it originally launched in Japan in 2021, but due to VTubers and streamers, it caught many people's eyes in 2023 — and even got a western release this October. While it's a very simple puzzler, the premise is rather addictive and pretty darn fun. All you need to do is drop fruit onto a board and match it up to the same type of fruit in order to make your fruit bigger. Short and snappy, it's hard to resist "just one more go" to get the best score.
We gave Suika Game a 7/10 in our review, but we just can't put it down!




This story originally appeared on Nintendo Life