Fairy tales are never really what they seem. Growing up, we're all exposed to these moral stories – often based on fable and myth – which have been adapted multiple times and, in many cases, softened too, whether it's through a beautifully drawn picture book or a sanitised Disney adaptation. But as you get older and more curious, you start to peel back the layers of these cutesy tales and often find more sinister origins lurking beneath
Little Goody Two Shoes is the embodiment of this notion. You play as Elise, a young girl whose grandmother has just passed away. Elise wants more in life – she wants to go from rags to riches, but she spends her days being a "little goody two shoes" by helping out the people of Kieferberg. But after meeting a new friend and finding a pair of red shoes in her back garden, Elise's wish seems much closer than she ever dreamed. It's a fascinating tale, one that works when it plays to its strengths, though some frustrations are holding it back.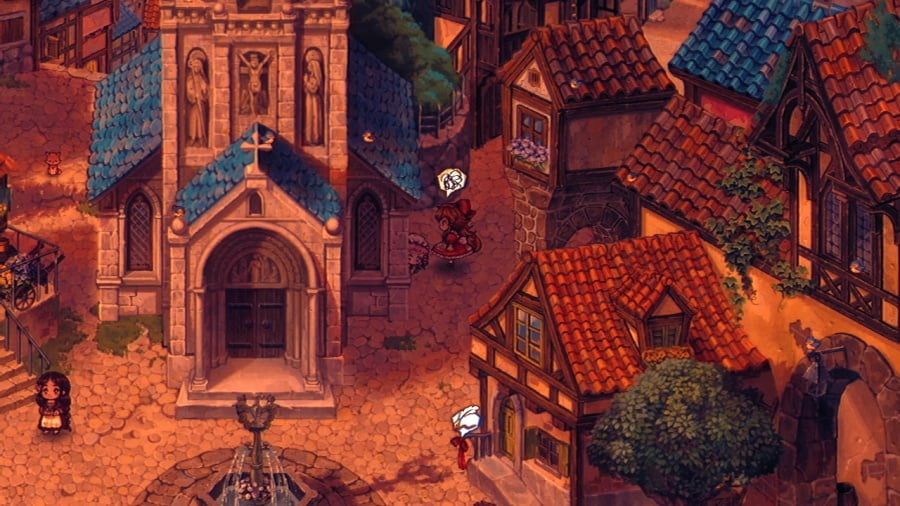 We've never really played anything like Little Goody Two Shoes. It blends all sorts of genres seamlessly to create a unique and enticing atmosphere. Part sapphic love story, part fairy tale, part nightmare-inducing horror, you'll go from cute little chats with your closest friends to animal corpses covered in psychedelic-coloured moths in minutes. The blend of gorgeous European fairy-tale aesthetic – from the wood-carved menus and cute little bakeries to the plaid aprons and ribbons – alongside the '90s shōjo anime character designs really helps to knit all of these moving parts together effortlessly.
This 'cottagecore' vibe along with the lovely pixel art visuals and bloom lighting reminds us of CLAMP's Magic Knight Rayearth or Sailor Moon, or even of a Sega Saturn game like Princess Crown. The lovely soft tones of the daytime contrast brilliantly with the nighttime darkness and unsettling blend of bright colours you'll encounter in the Woodland, the haunted place that Elise must explore every night. It runs really well on Switch — absolutely no issues at all — and the music, which also covers the same range of creepy and cute, really ties everything together.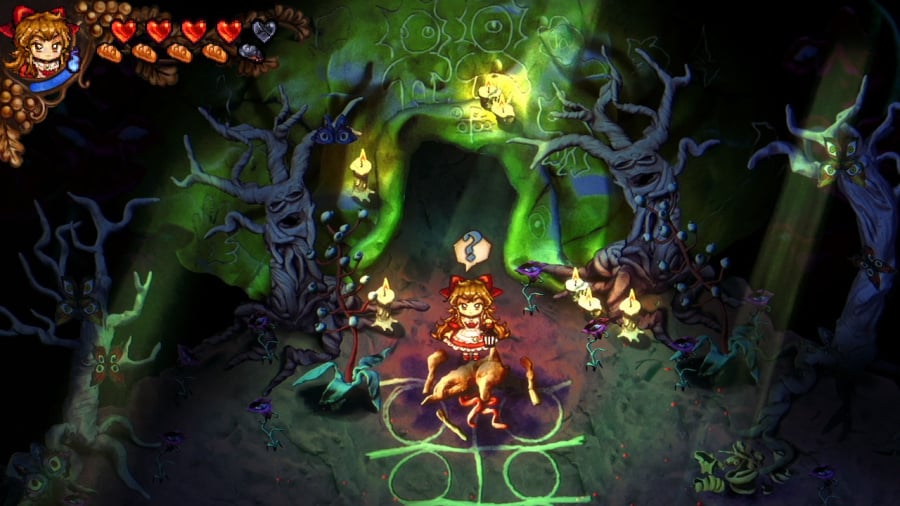 Each day is split into six different periods – dawn often sees you heading from your home to the town of Kieferberg to find out what's happening in the village. The next three time periods are then yours to do work for the villagers, pass time with your sweetheart, and spend money on food and items that you may just need. Come nighttime, you head home, only for Witching Hour to kick in and the horrors unwind. Depending on the choices you make, such as who to date or what items you pick up, you'll get one of ten endings. And with your initial playthrough lasting about ten hours, there's plenty of incentive to try and get Elise a happier (or more horrifying) ending.
During the day, the tasks you carry out for the villagers range from chopping wood to gathering apples, and rather than being little fetch quests, these come in the form of playable arcade-style minigames, complete with a wooden-carved arcade unit. These are quick and, depending on how well you do, you can earn more money. It's a fun way to break up the back and forth of exploring town, but there are only a handful of these minigames on offer, and you'll likely see all of them by the end of day two.
Money is very important, because every time you progress from one period to another, Elise's hunger will deplete. If you let her hunger fall to zero, you'll get a Game Over. Depending on your choices, you might deplete more than one bar of hunger, and you'll need to buy food from the bakery or inn to keep Elise fed. During Witching Hour, you also need to worry about Elise's health and sanity, which falls when she gets hit or talks to an unsettling ghost. Again, items you can buy from stores are used to recover these, but you'll find (and be given) some free food throughout the game, so it's not something you need to worry about too much.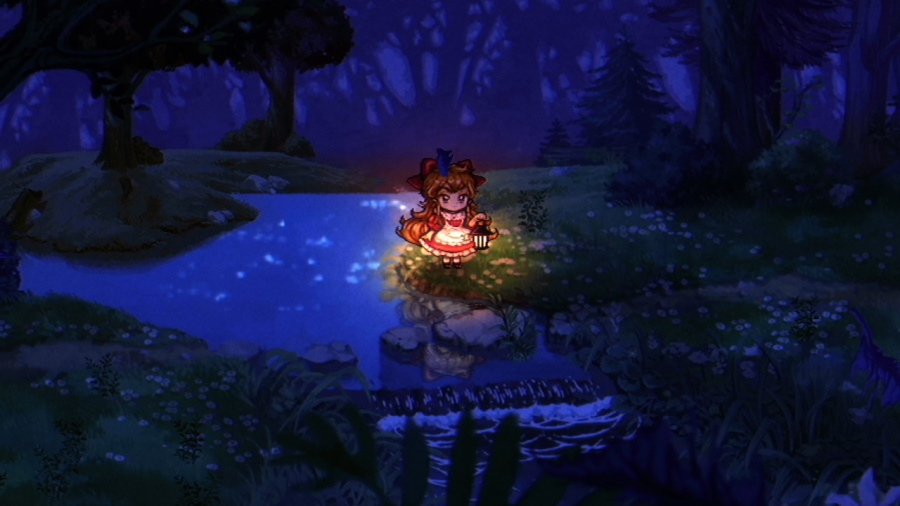 Initially, Little Goody Two Shoes is pretty overwhelming – choosing who to pursue romantically, picking what jobs to do, and preparing ahead for the day's events is a lot. And, on top of that, you'll sometimes have to feed a certain villager to stop her from being suspicious of you and your new friend, or even quell the villager's worries. But eventually, things even out, and the further into the story you get, the easier you'll find balancing everything. Honestly, developer AstralShift does a really good job of blending everything together, even with the initial hour or two being a bit of a deep dive.
Witching Hour is, however, where the best and worst parts of Little Goody Two Shoes come into play for us. These levels are fantastically designed explorable nightmares that nail the aesthetic and tone the game is going for. In each of these, you need to solve several puzzles to progress to the next day. However, while this adds another wrinkle to the game's systems, it's a lot more frustrating than many of the other elements.
Early on, Little Goody Two Shoes recommends you save often and use all of the 20 save slots available to you, and you'd do well to pay attention to that. The puzzles during Witching Hour only give you very vague hints, and it's often a case of trial and error in trying to solve them rather than using your brain to figure them out. The problem is that during these puzzles there are ghostly apparitions, enemies, and thorns lying around that will cause Elise to lose health if they touch her, and she'll die if she reaches zero.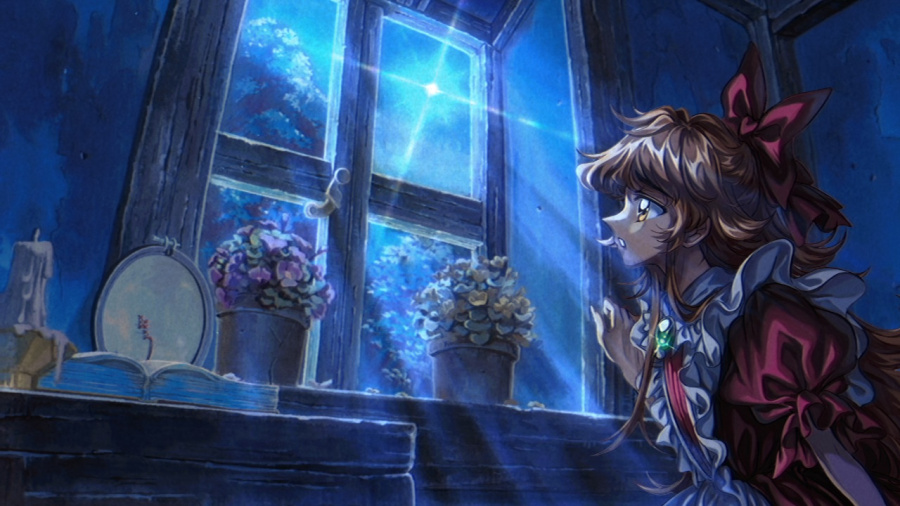 Luckily, there is a save point in every room, but redoing the same room over and over again, while listening to the same dialogue – which can be fast-forwarded in some cases – can get tiresome quickly. There's a boss towards the end of the game, in particular, where you can't skip the text, and we died a lot to this. It doesn't really help that diving into the game's quick menus or inventories to consume food feels sluggish, either. There's a delay between scanning through your items to selecting them, and it just makes things take that extra bit longer.
Conclusion
It's impressive just how AstralShift has managed to weave together all of these different parts so effectively in Little Goody Two Shoes. The atmosphere is unmatched and the story is genuinely intriguing, with Elise making a great protagonist who – despite appearing selfish and bratty – just wants a better life for herself and whoever she falls in love with. We're so close to being in love with this game, but a few frustrations just hold this game back from having a fairy-tale ending for us. Still, for the unique ideas alone, we'd recommend checking this out.




This story originally appeared on Nintendo Life