"High School Musical," who says we have to let it go?
The last film in the "High School Musical" trilogy, "High School Musical 3: Senior Year," turns 15 on Tuesday, and you know what that means: It's time to revisit — and rank — all 11 songs from the grand finale.
When it debuted in October 2008, the threequel marked the first "High School Musical" film to open in theaters. On the heels of two wildly successful Disney Channel Original Movies, rising stars Zac Efron (Troy Bolton), Corbin Bleu (Chad Danforth), Ashley Tisdale (Sharpay Evans), Lucas Grabeel (Ryan Evans), Monique Coleman (Taylor McKessie) and Vanessa Hudgens (Gabriella Montez) graduated to the big screen as their beloved characters prepared to graduate high school.
After signing onto the low-stakes, low-budget first "High School Musical" in an effort to ease back into filmmaking, director Kenny Ortega suddenly found himself at the helm of an international multibillion-dollar franchise. What started as a simple 90-minute screenplay — a romance between a basketball jock (Troy) and a science nerd (Gabriella) with a shared love of singing — had ballooned into one of the most successful children's TV institutions of all time.
And the filmmakers behind "High School Musical 3" adjusted accordingly — adding more songs, raising the production value, enhancing the choreography and rolling out the epic conclusion in wide release.
"We've definitely had to step it up," Hudgens told The Times all those years ago on the set of the film. "In a way, it feels like the other two movies were all a run-up to this one."
In honor of the movie's 15th anniversary, here's a ranking of all the songs in the film. (For "High School Musical" and "High School Musical 2" song rankings, check out our previous coverage.)
11. 'We're All In This Together (Graduation Mix)'
The original version of this song was already overhyped and overplayed (sorry!), so this sleepier, choral retread had no choice but to take its rightful place at the very bottom of this list.
It's not the same, nor different in a good way. No. 11 is where it belongs.
10. 'Walk Away'
When it hits, almost nothing beats a solo performance from the queen of the melodramatic breakup anthem, Gabriella Montez (see: No. 2 seed "Gotta Go My Own Way" from our "High School Musical 2" song ranking). Unfortunately, this one is a rare miss.
Not only do the upbeat tempo and jaunty horn section awkwardly contrast with the song's somber lyrics — they also do a disservice to Hudgens' considerable vocal chops, as heard in previous Gabriella ballads.
9. 'High School Musical'
It goes without saying that, as a devout "High School Musical" stan, I have a high tolerance for cheese.
But a line must be drawn somewhere, and a graduation song titled "High School Musical" — about never losing the spirit of "High School Musical," performed by a gaggle of students who just put on their last "High School Musical," in the final installment of a film saga titled "High School Musical" — is a little too on the nose.
8. 'Right Here, Right Now'
Love a good Troy-Gabriella duet as much as the next person, but compared to all-time bangers such as "Start of Something New" and "Breaking Free," this one is pretty meh.
Sure, the harmonies are nice, and Efron and Hudgens sell it like they always do. But ultimately, this short, vapid number does nothing to further the already-thin plot and probably could have sufficed as a deleted scene.
7. 'Scream'
It's no "Bet On It" (though the filmmakers were clearly trying to recapture the angsty perfection of that hole-in-one number from "High School Musical 2" here). But by the third movie, Efron had truly mastered the art of communicating Troy's anguish through song and dance with a level of intensity and theatrical flair perhaps unmatched by any DCOM heartthrob that has come before or after him.
And thanks to the budget increase that followed the franchise's big-screen promotion, sadboi Troy's last lament was finally afforded the production value it deserved. Raining basketballs, strobe lights, rotating school hallways, CGI thunderbolts? My guy Ortega really pulled out all the stops.
6. 'Just Wanna Be With You'
Come on, it's cute!! Playmaker Kelsi is back at the piano; Chad, Taylor and Ryan are living their best lives backstage; Troy and Gabriella are reunited onstage; Efron and Hudgens are magic onscreen; the harmonies are like butter; and all is right in the High School Musical Cinematic Universe.
5. 'I Want It All'
Tisdale had her moment with "Fabulous," Sharpay's poolside ode to excess, in "High School Musical 2" — and what a moment it was! But — foreshadowing the completion of Ryan's arc from jazz square-loving sidekick to Juilliard recruit — "I Want It All" is really Grabeel's opportunity to shine.
With his impeccable comedic timing, winning smile, Fosse-esque dance moves and pitch-perfect vocals, Grabeel's undeniable talent and charisma are the cherry on top of this fantastic musical tribute to the performing arts.
4. 'Now or Never'
The lyrics of the last opening number of the "High School Musical" trilogy — staged during a climactic rivalry basketball game between the East High Wildcats and West High Knights — set the tone for the entire film.
"This is the last time to get it right," a determined Troy sings to his fellow seniors playing their final high-school game (and implicitly, the cast and crew of a beloved movie franchise entering its final chapter).
And get it right they did. From the painstakingly blocked basketball and cheerleading choreography to the delightfully percussive marching-band instrumentals, everything about this slam-dunk of a showstopper works. Bravo, as Ms. Darbus would say. Brava!
3. 'The Boys Are Back'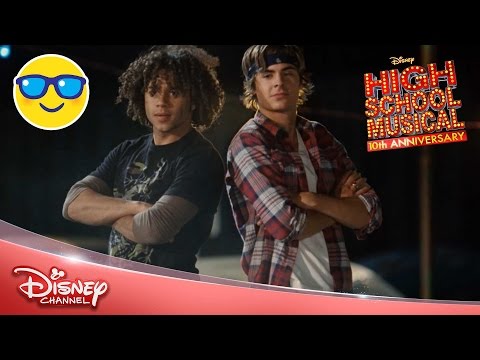 Disney Channel phenom-turned-Broadway performer Bleu's exceptional singing and dancing skills take center stage in what is somehow the only Troy-Chad duet in the entire "High School Musical" franchise.
And it's a damn shame there weren't more, because Efron and Bleu are some of the best talents, no doubt, ever produced by the House of Mouse. This junkyard jamboree proves it.
2. 'A Night to Remember'
Despite boasting a superb ensemble of young performers, the "High School Musical" trilogy has a tendency to drop the ball on numbers featuring the entire cast. (Other group standouts — such as "Stick to the Status Quo" from the first film and "Work This Out" from the second — are missing some key players.)
"A Night to Remember" is a glittering exception worthy of the highest ranking The Times has ever bestowed upon an all-cast number. For a bunch of working teens who likely never attended a real high-school prom, Efron, Hudgens and the whole "HSM" crew certainly understood the assignment when it came to staging a fake one.
This masterfully composed, choreographed and executed routine is a manifestation of years of hard work put in by a company of actors and crew members who learned to operate like a well-oiled machine over the course of three films and a concert tour.
1. 'Can I Have This Dance?'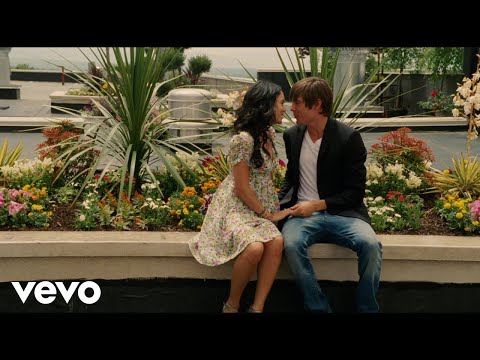 It's like catching lightning the chances of finding an onscreen duo with chemistry as natural and compelling as Efron and Hudgens'. The first "High School Musical" movie was the start of something new for these young performers, and with every step together, they just kept on getting better.
It's almost impossible not to smile while watching the Romeo and Juliet of the early-2000s Disney Channel gracefully waltz across a rooftop garden without ever taking their eyes off each other — all while nailing vocal harmonies as gorgeous as the snow-capped mountains in the distance.


This story originally Appeared on LATimes