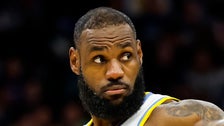 LeBron James isn't ignoring the memes poking fun at his history of telling tall tales.
The Los Angeles Lakers star seemed to address the posts that circulated on Twitter earlier this month during Thursday's broadcast of "TNF in The Shop," an Amazon Prime telecast of "Thursday Night Football" that's a crossover with James' talk show "The Shop."
So when James claimed Thursday that he put Los Angeles Rams player Jalen Ramsey "on a blitz" when they played "Madden" together, Ramsey, who was also on the telecast, wasn't having it.
"You know what they say on Twitter," Ramsey said as he pointed to James.
"We were just talking about this the other day," James replied with a smile. "I always keep it true, baby."
You can watch the clip below.




This story originally appeared on HuffPost